A propos de Philippe F. Roux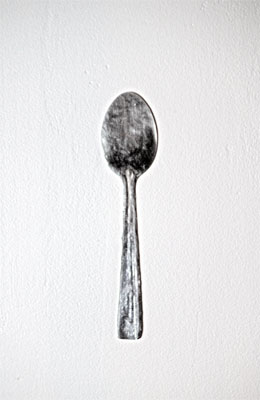 Aplatie, une cuillère est-elle toujours une cuillère?

Non, car elle n'en n'a plus la fonction. Elle est (re)devenue son matériau, métal en feuille épaisse, et une forme, celle d'une cuillère selon sa silhouette, mais a perdu la profondeur qui lui permet d'être cuillère et d'en remplir la fonction.

Oui, car cependant cette forme nous dit la cuillère, le concept de cuillère, bien qu'elle n'en couvre pas tous les attributs et, voyant cette forme, nous ne savons pas comment la nommer autrement que « cuillère ».

Je pense que l'une et l'autre sont deux propositions vraies simultanément.

Philippe F. Roux
– – –
Les tensions entre nominalisme et réalisme sont à l'œuvre dans l'ensemble du travail de Philippe F. Roux.
Définition de ce que l'on voit, chose en soi (rapport physique, installations) ou chose réalisée par le nom qu'on lui donne (idées, chose comme idée) sont à l'origine des formes variées, installations sonores, sculptures, images, performances, œuvres pour des non-humains.
Difficile à appréhender d'un coup d'œil, le travail de Philippe F. Roux demande une mise en lien des diverses propositions, une considération des matériaux, des circonstances d'exposition et des modes de fabrication, une sensibilité aux relations du corps à l'espace, tout signifie.
Cette apparente aridité n'est autre que la forme de l'exigence d'une œuvre qui s'adresse tant à l'esprit qu'au sensible.
Lea Ponty
About Philippe F. Roux
English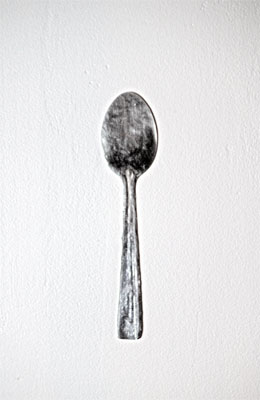 Flattened, is still a spoon a spoon?

No, because it does no longer keep its capacity. It becomes its material, thick sheet metal, and a shape, that of a spoon according to its shape, but it lost the depth that allows it to be spoon and to perform its capacity.

Yes, because this form however says the spoon, the concept of spoon, although it does not cover all its attributes. Seeing this form, we do not know how to name it differently than « spoon ».

I think both are true propositions, simultaneously.

Philippe Roux F.
– – –
Tensions between nominalism and realism are at work in all the work of Philippe F. Roux.
Definition of what we see, thing in itself (physical relationship, installations) or thing created by the name given to it (ideas, thing as idea) are generating various forms, sound installations, sculptures, images, performances, works for non-humans.
Difficult to understand at a glance, the work of Philippe Roux F. request to link the various proposals, a consideration of materials, of exhibition circumstances and manufacturing methods, sensitivity to body relationships with space, all means.
This apparent aridity is none other than the form of the requirement of a work that address both sensitivity and mind.
Lea Ponty